I often marvel at how the world has changed... Here I am, in Brisbane, working, while I watch the Twitter stream from #gafesummit in New Zealand and #usetechnologybetter in Melbourne. This is the world we live in now, and I doubt it will regress in our children's future. The world has changed from when we grew up, and it continues to change, every day. Some of these changes are in response to problems (remember when it was in the headlines that Prince Charles was making virtual appearances at conferences to cut down on emissions which lead to global warming?), some of them are in response to the opportunity afforded to us by technology (I would not have dreamed off following two conferences, interstate and overseas, simultaneously, before the advent of twitter and my signing up to it).
My thoughts are (as usual) revolving around children and education; given all these changes, what can we do in education to set our children up for success? We truly don't know what their future will bring!
Let me digress for a moment: As adult in my forties I still enjoy reading YA novels at times, and especially the advent of ebooks, which seem to make it easier to publish lesser known authors, has given me access to many interesting titles. When I was a teenager, such YA novels often themed around the world after an atomic bomb (understandably in Europe in the 80s); current YA novels often revolve around a world having returned to a more primitive society after some sort of mankind induced catastrophe. Both of them are predictions of possible futures (and I'm very glad the 80s version did not eventuate), but in the absence of a crystal ball, we don't know what the future will bring.
So what is actually the purpose of school? I see it as a way to prepare children and young people for life. Many people talk about the need to prepare students for the work force, which is the reality for the vast majority of us, though Vivek Wadhwa (amongst others) predicts a
jobless future
. We are obviously not sure what the future will hold, if there will be jobs or not, if there will be catastrophes forcing society to change or not, so
how are we preparing young people
for that?
__________________________________________________________________________
There have been a number of blog posts and tweets lately that have made me think: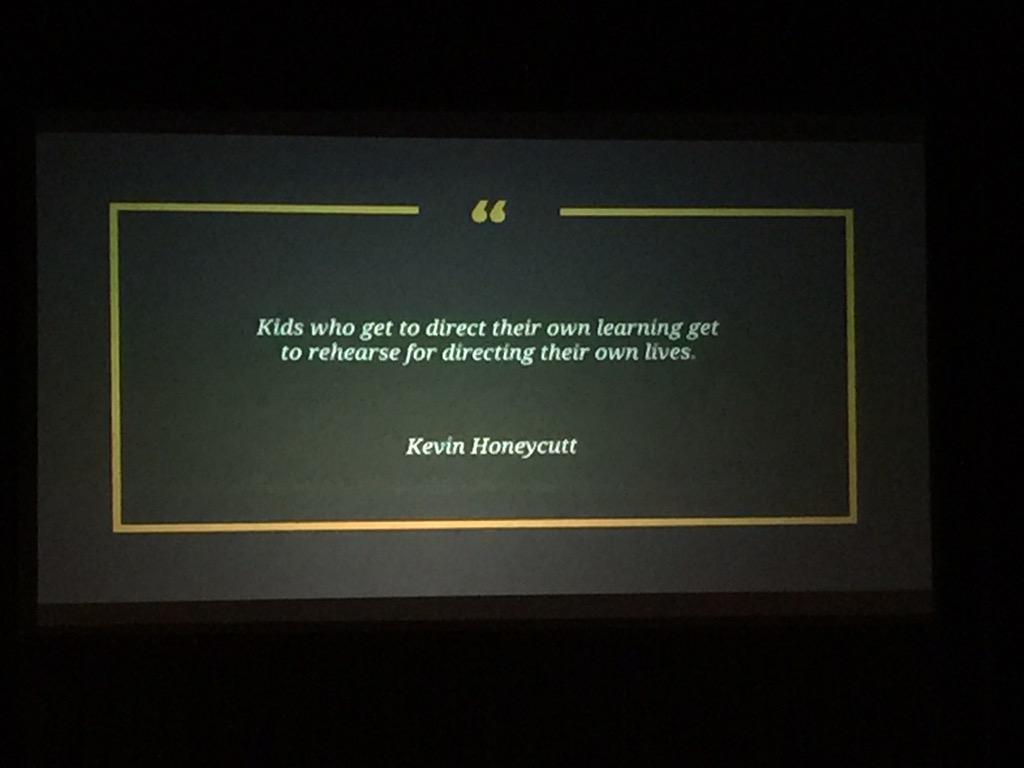 Tweet from NZ GAFE Summit by @markherring
AUT Professor of Education Jane Gilbert's thoughts on educating young people for the future have been featured in this post on
idealog
; she talks about the assumptions we are making in education, the targets we are setting on achieving qualifications and how these are not necessarily setting young people up for long-term success in their future.
"We're still working within the same twentieth-century framework. The thinking hasn't changed. It's just couching what we've already done in much fancier production values. It looks cooler and more digitised, but the underlying educational objectives have not changed. (...)

Our education system is meant to serve the collective good and create the kind of society we want to live in."
This last sentence is of utmost importance: Rather than preparing our young people at school for a future they will live in, it is education's role to create the kind of society we want to live in. What do we want society to look like in the future? Do we want people to be able to work together, at times while geographically distant from each other, and solve the problems of the world, create new understanding for a better future?
The New Zealand NCEA (National Certificate in Educational Achievement) system is using Achievement Standards to describe what students are able to do when they achieve a particular standard. The idea behind it allows educators a lot of flexibility in how they approach learning, while providing moderation of results to ensure that standards are of the same quality across the country. Where traditionally exams were seen as the only valid form of assessment, the NCEA allows a combination of internal and external assessments, in my opinion much more reflective of real-life (how many of us get assessed in our work performance once a year for 3 hours in an assembly hall, using pen and paper? By the way, the NZQA has indicated they plan to move to online exams available at any time of the year in the next few years.)
The qualification system in itself is not the problem, it is the way it is being applied in some (many?) schools in my opinion. I am not proud of the fact that I used to choose my Achievement Standards and topics for the year (no consultation of student interests or connection with other subject areas) and then developed the course around that, and I believe this practise is still rather common. Many a time secondary students will ask "How many credits is that?" and weigh up if it is worth their time for the result they might get out of it. Why does the learning take a back seat to the qualification? Why is the tail wagging the dog? Does it need to be this way?
+Claire Amos
, DP at
Hobsonville Point Secondary School
in New Zealand, approaches the issue of qualification from a more pedagogical angle; rather than fully adopting or throwing out a qualification system which might not be the be-all-and-end-all to preparing students for the future, HPSS staff are trying to make it work within their pedagogical frameworks. I encourage you to read her post
Why are you still doing NCEA Level One?
My understanding of their approach, like the approach of
Te Karaka Area School
, is that they put the learning first, across multiple curriculum areas, and then use suitable Achievement Standards to assess the students' learning.
These are just some of the examples that make me think. I am convinced that now and in the future we need to have a certain set of transferable skills. The terms vary, but I really like the terms from the ITL research and the 21CLD:
Collaboration, Knowledge Construction, Self-Regulation, Real-World Problem Solving & Innovation, ICT for Learning and Skilful Communication.
Is your approach to learning and teaching fostering these skills?
Not everyone agrees with this approach, not even within the teaching profession. I read a Facebook conversation yesterday where a teacher asked "
I am really curious to know what the driver for devices in schools truly is.
The deeper we go into devices in education the more I feel we are pulling away from core learning, the basics."
An article in the NZ Herald yesterday stated
Computers take learning out of equation
. Interestingly, both of these focus on 'the tool' (devices, computers) rather than on the pedagogical framework which the tools might support.
__________________________________________________________________________
By no means would I claim to have all the answers, but here are some of the changes on my wishlist:
Let's have a conversation about what we want society to look like in the next 20-30 years
Aim to set our students up for success within the society we are aiming for with its uncertainties and unknowns
Pedagogy first, tools (incl. computers) to support it second.
Reinvent schools to provide young people with a safe place to learn to learn, to acquire necessary skills for the future (such as collaboration, knowledge construction etc.)
At the same time, provide young people with the inspiration to look beyond their immediate interests and environment, so that they can gather a holistic world view taking into account history, different cultures, others' viewpoints and experiences
Use a system like the NCEA to make report on what students are able to do.
Please feel free to share your wishlist and your thoughts, I would love to know and discuss with you!